Located on the picturesque riverfront in the Belém area, July will mark three years since SUD Lisboa opened its doors for the first time. Since then, it has exceeded all expectations. In addition to gaining increasing popularity due to its unique multipurpose space, this venue has also set the standard when it comes to hosting large-scale events. "SUD Lisboa continues to focus on offering quality customer service, from its cuisine to its excellent entertainment, to its capacity for innovation. All of these elements place it among the best destinations in the city", says the Business Development Director of SUD Lisboa and SANA, Salome Gorgiladze.
SUD Lisboa Terrazza
SUD Lisboa belongs to the SANA Group and boasts a complex comprised of two distinct buildings: SUD Lisboa Terrazza and SUD Lisboa Hall. Designed by the renowned architect Antoine Pinto, the two structures are connected by a scenic skywalk. In a city with very few offerings with this type of panoramic setting, dimension, upscale ambiance and cool vibe, it continues to be an unparalleled destination.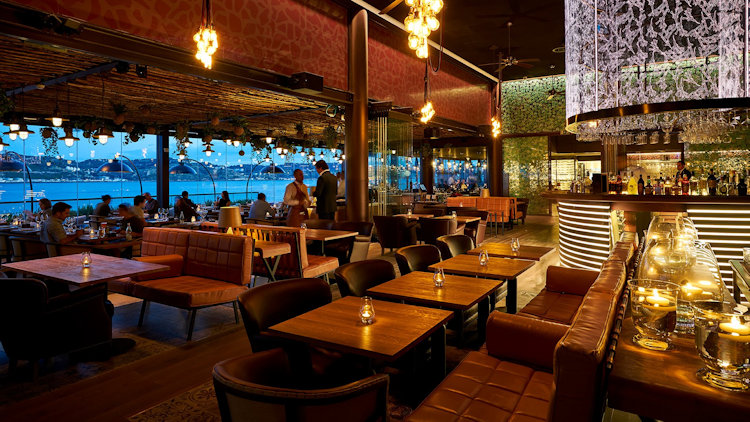 The infinity pool, located on the top floor of the SUD Lisboa Terrazza building offers a magnificent view of the Tejo River and the iconic Bridge 25 de Abril. The SUD Pool Lounge introduced the innovative concept of SUN, FUN, FOOD and DRINKS to the city, and the swimming pool is typically open from 10am to 6pm in the summer. In the SUD Pool Lounge area, one may order an assortment of salads and snacks such as garlic black tiger shrimp or braised beef in a garlic-wine sauce. (pica-pau de novilho em vinho d'alho). In terms of entertainment, there is a live DJ daily from 6pm to 2am and there will be live music acts. But that's not all.
SUD Pool Lounge
Encompassing an impressive area of over 1,000 square meters and with the capacity to seat 240 guests, SUD Lisboa Terrazza offers a gastronomic space known for its panoramic views, elegance, and sophistication. Executive Chef Patrick Lefeuvre is in command in the kitchen and has designed a menu inspired by Mediterranean flavours featuring items such as pizzas, pastas and risottos. "To complement the Italian-style menu, there is a wide variety of drinks and attentive service, two other key elements that make this hotspot an absolute must", proclaims Salome Gorgiladze.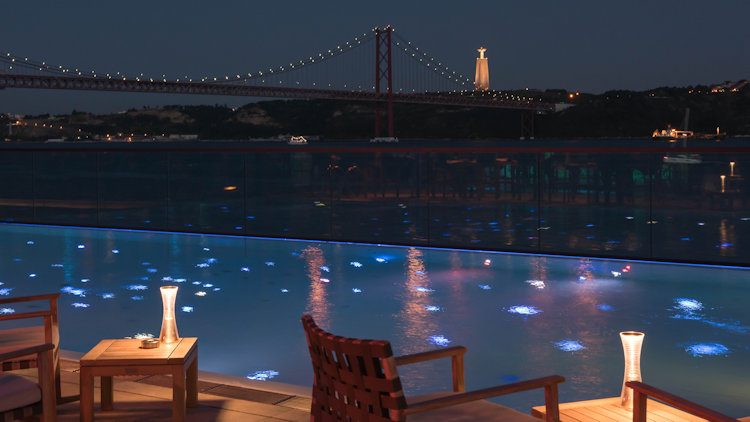 SUD Lisboa Hall, the premium event space, boasts 1,683 square meters (divided between two floors), and the capacity to host 1,700 guests. It is exclusively a private event space and equipped to host any type of event. Here, Executive Chef Angel Reyes and his team of professionals create a fusion cuisine inspired by the four corners of the globe. "We have hosted prestigious international events here. From the sophisticated gala that launched OMEGA watches in Portugal and which featured former top model Cindy Crawford, to the awards ceremony for E! Channel Entertainment, to the arrival of HBO in Portugal, SUD Lisboa Hall has been centrestage of many unforgettable moments", informs Salome Gorgiladze.
Last year the New Year's Eve Gala under the theme Timeless Reveillon had as special guest the Spanish most famous singer's son: Julio Iglesias Junior.
SUD Lisboa Hall
Always striving to go above and beyond the needs of its clients, SUD Lisboa launched SUD Kiosk Café. On the riverside, just outside SUD Lisboa Terrazza, it aims to meet the needs of those that enjoy strolling along the waterfront. It offers the quality products the SUD client has come to expect, but in a take-away format. Here, one find a selection of fresh fruits, cold salads, fruit juices, artisanal gelato and other irresistible delicacies.
In sum, SUD Lisboa's unique concept has been a resounding success. "We are now undergoing an enviable phase of consolidation and are ideally positioned to offer a distinctive, versatile and modern lifestyle to our various types of clients in the vibrant Portuguese capital," wraps up Salome Gorgiladze. Everything is definitely looking up at SUD Lisboa.
SUD Lisboa is a unique product, taking advantage of its privileged location by the Tagus river, offering the entertainment, service, and decoration that make this an inescapable point of visit for a growing range of clients who, just like SUD's staff, understand that the sky is the limit.
Publicação feita em Luxury Travel Magazine